English
Development Report of

Ash Melting Furnace

using oil burner for

Burnt out ash of
Incinerator.

Takahashi Consulting Office & Taiyo Engineering Co.,have developed
a simple shaped vertical melting furnace for burnt out ash.
The furnace is equipped to produce a clean sandy slag by ash melting.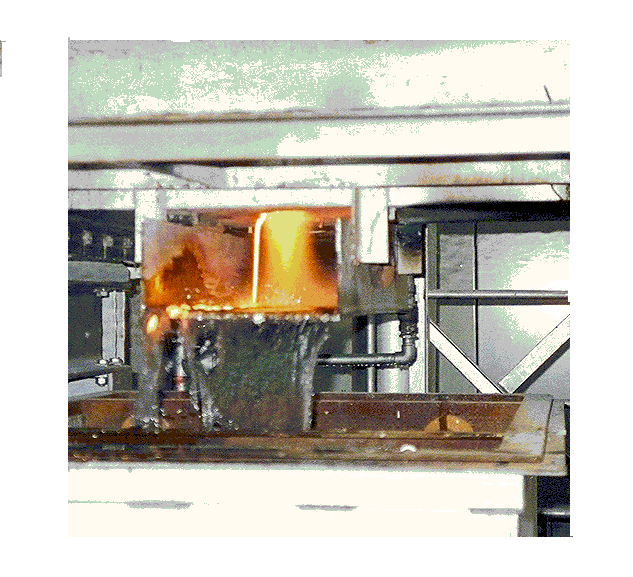 ( outflow of melting ash into water gutter )

The furnace has double stage of waste heat recovery systems.
At the first stage the combustion air for fuel oil
is preheated up to over 600 ℃ and at the second stage
the raw ash is preheated up to over 300 ℃.
This heat recovery system saves energy and reduces fuel oil consumption.
The recommendable fuel is kerosene or heavy oil A.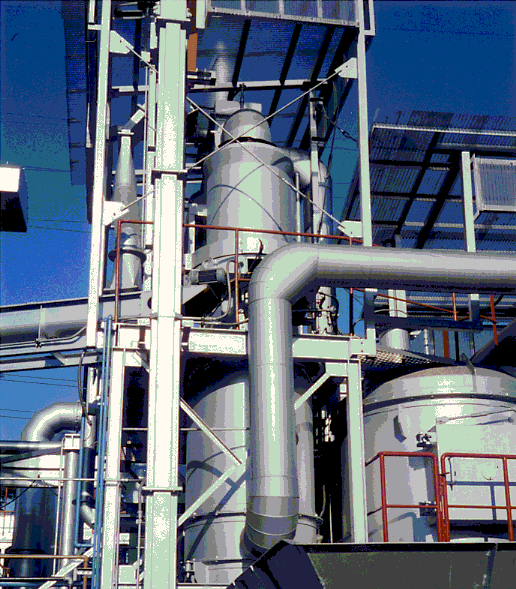 ( upper/ash preheater, under/air preheater )

Inside of the furnace, temperature of tangential flow flame becomes
over 1450 ℃,
and the preheated raw ashes have been feeding constantly into the hot flame.

The ash soon becomes a melting fusion and tangentially falling fusion coats itself
all over the wall surface.
The coating protects the refractory wall against the heat attack,
and considerably elongates its life.
Fine dusts of the ash also melt down immediately
and therefore the effluent gas contains no dust at all.
This furnace has a technology on this method of
eliminating dust from effluent gas.
As a result melting ash becomes a clean sandy slag,
and is reduced its volome to 1/3 or so.

Poisonous Dioxins is perfectly solved by hot gas and becomes harmless,
and also poisonous heavy metals are confined within the slag,
then the problem of secondary pollutions never arise.

This slag is recyclable as a construction material,
or can also be filled into the soil.

The furnace is in a small way and very light in weight,
so operation can start quickly.
Therefore it can be operated easily and flexibly.
The facilities consist of minimum necessary apparatuses,
so the cost of installation is reasonable.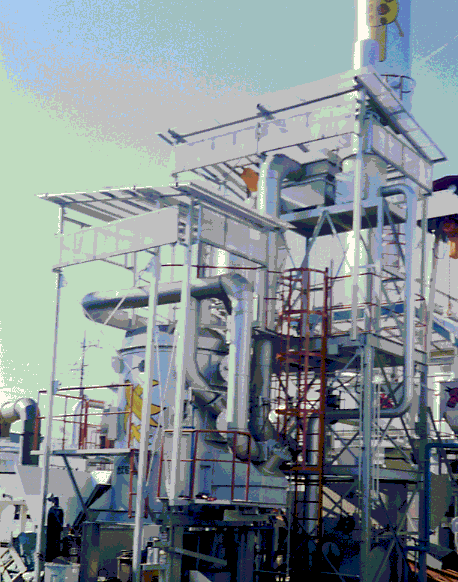 ( outside of furnace )


This furnace is suitable for treatment capacity of the ash 50 tons/day or less.


For those who are incinerator plant owner
and wish to reduce the volume of the ash,
or those who are interested in building melting furnace,
or those who are businessmen with much information
please call or e-mail for further information.


We are ready to transfer the technology of this furnace.
We are raising the sole agent in Taiwan, Korea, Hong Kong and Singapore.
Please visit our JAPANESE homepage and contact us.

Address:Taiyo Engineering Co.,Ltd.
(Takahashi Consulting Office)
7-25-2-201 Takanedai.Funabashi-city, 274-0065 Japan
Telephone:8147-462-2312,Facsimile:8147-401-2676
概要
太陽化工機有限会社

千葉県船橋市高根台7-25-2-201
TEL:047-462-2312
FAX:047-401-2676